Flowering hanging pots look fantastic in it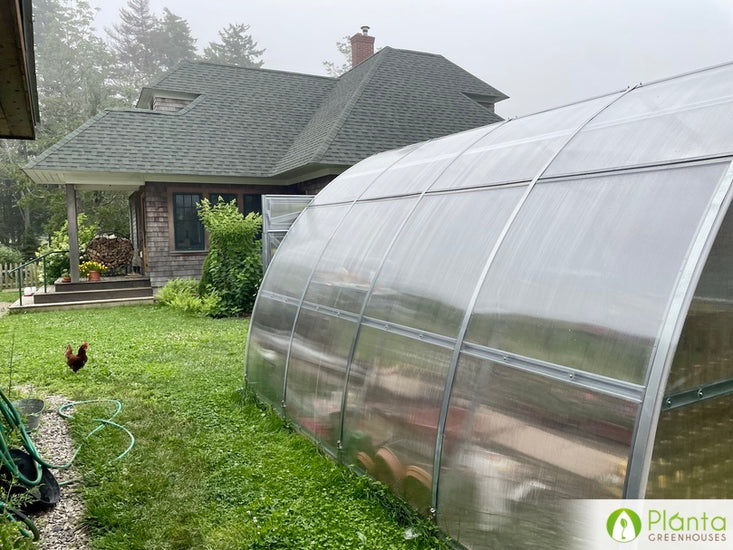 What made you get a Planta Greenhouse?
I love growing things. We live on the ocean in a cold climate, which makes for a fairly hostile growing environment. I'm hoping that now that my husband has assembled the greenhouse (a true labor of love) with the 15 unlabeled bags of 40,000 unlabeled screws, nuts, and bolts, I can start my seedlings out there early next winter instead of all over the house under lights with warming mats.

Why did you choose to buy from Planta Greenhouses?
Lots of customer comments about snow load and wind resistance and I liked the shape.

What do you grow inside your greenhouse?
I used it as a cold frame this spring, from seeds I had planted inside. I got a late start because my husband only finished it in late May. Hopefully, he'll get some raised beds in the fall and I'll start popping in some spinach and lettuce. I'll use it to extend my growing season.

How did your Planta Greenhouse improve your gardening experience?
I was using a cobbled-together cold frame built out of ancient window sashes and, once the greenhouse was built, I moved all the seedlings in there and they thrived. It's brand new so I hope to experiment when summer is over and the garden is turned under and there's still some warmth and light.

What was your experience like buying from Planta Greenhouses?
Easy to buy. Any time I called, it sounded like some guy was in the middle of building something, but still took the time to help out and answer questions.

What's your favourite thing about the Planta Greenhouse?
How pretty flowering hanging pots look in it. That's all I've used it for since it was built only a couple of months ago and all the seedlings moved out into the garden.

What would you say to a person considering purchasing a Planta Greenhouse?
Can't help building it. Watch the videos on YouTube. Look up certain video instructions that you can't find via the Planta website. Putting it together is no picnic.