Extended Season in Zone 6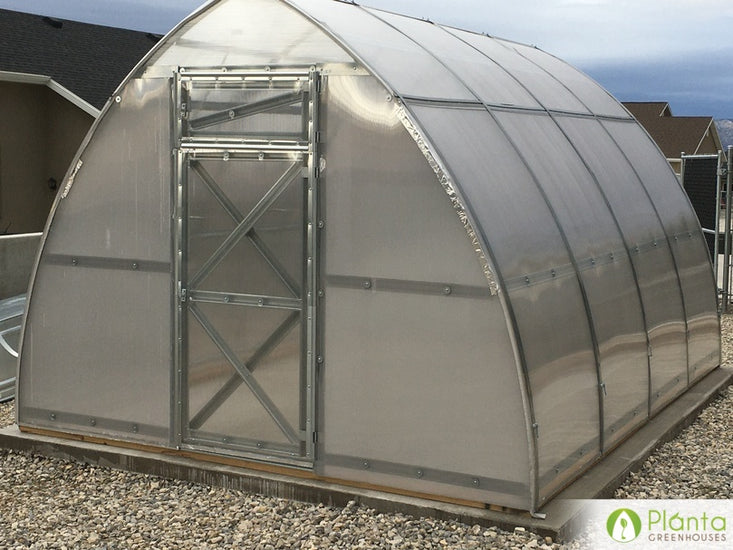 What made you get a Planta Greenhouse?
I was impressed by the quality of the components and the excellent designs. The Sungrow Urban 10 X 13 is perfect for me. I would recommend it to anyone.

What competitors did you consider before purchasing from Planta Greenhouses?
Various greenhouses offered through Tractor Supply, Home Depot, Palram, etc.

Why did you choose to buy from Planta Greenhouses?
It looked like a good functional greenhouse and investment value.

What do you grow inside your greenhouse?
Some seedling trays. I am really just starting to use it. I will be doing hydroponics this year. I have custom-designed a hydroponics rack to fit into the greenhouse efficiently. With my design, I will be able to grow about 150 plants in the greenhouse, and transplant to the grow boxes and the ground to get two seasons of gardening. I am using water tanks for heating. If I run electric heating to the greenhouse. I could do year-round gardening.

How did your Planta Greenhouse improve your gardening experience?
Primarily, it gives us a longer growing season in a more controlled environment. We are in Zone 6 in Utah. That means that a good greenhouse is absolutely necessary to do any kind of volume gardening.

What was your experience like buying from Planta Greenhouses?
The purchasing process was easy. The shipping was excellent. The construction was difficult, but everything fit very well. A couple of calls to your very experienced support staff and I was successful in getting it assembled.

What's your favourite thing about the Planta Greenhouse?
The greenhouse has a very strong steel structure that fits together very well. The double-layer polycarbonate panels are wonderful for both structural strengths in wind storms and for insulation.

What would you say to a person considering purchasing a Planta Greenhouse?
I would highly recommend Planta Greenhouses to anyone who wants an excellent greenhouse for long-term use.

Anything else you'd like to add?
Not really. We are just very happy with our greenhouse.