The best greenhouse to meet our high desert needs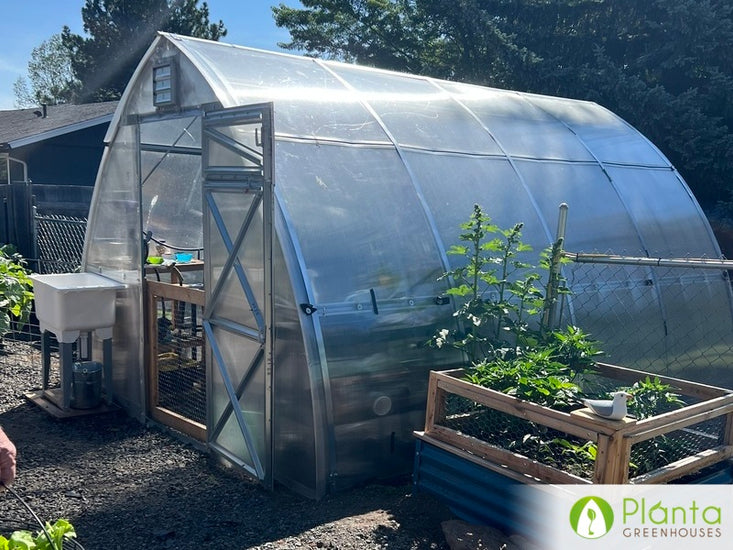 What made you get a Planta Greenhouse?
We live in the high desert, and I felt it might extend our growing capability. We have a very short growing season.

What competitors did you consider before purchasing from Planta Greenhouses?
I did not consider any other greenhouse, as you were recommended to us highly.

Why did you choose to buy from Planta Greenhouses?
We looked into greenhouses online. We both felt that Planta was the best greenhouse that met our needs.

What do you grow inside your greenhouse?
We start seedlings both flowers and vegetables. We keep our tomatoes inside year-round. A very pleasant place to just sit with an iced tea!

How did your Planta Greenhouse improve your gardening experience?
It added time to our growing season, and also the ability to start our own plants. The tomatoes love it! We grow much more flowers and vegetables by seeds.

What was your experience like buying from Planta Greenhouses?
We were very happy with the customer service and had fun with my sons and son-in-law putting it up. All transactions were made very smoothly.

What's your favourite thing about the Planta Greenhouse?
The greenhouse is just the right size for our family and for our home. It is quite the conversion piece for our friends and family.

What would you say to a person considering purchasing a Planta Greenhouse?
Money well spent. In fact, I have recommended Planta Greenhouse to two family members.

Anything else you'd like to add?
The greenhouse has added a new dimension to our hobby of growing our own food we love our new addition to our garden.