Warm, quiet, peaceful, and fragrant!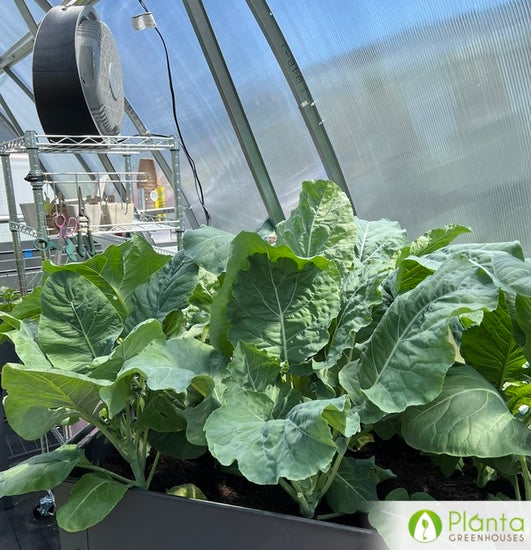 What made you get a Planta Greenhouse?
Design and sturdiness. Living in a very rainy and windy area for a good portion of the year I wanted something to withstand the weather. Planta delivered the best.

What competitors did you consider before purchasing from Planta Greenhouses?
No name brands were found while browsing the internet. Saw too many posts of people who had purchased one and found it flattened in the yard.

Why did you choose to buy from Planta Greenhouses?
Communication and a very informative website; I like what I saw in words and pictures. Reviews were positive. So very pleased with this purchase.

What do you grow inside your greenhouse?
Everything is in containers on wheels and can be rotated according to its growth and airflow needs. Right now I have tomatoes, herbs, carrots, lettuce, onions, celery, and 4 thriving trees-lemon, lime, peach, and a Top li Hat blueberry Hill. This will all change for the fall/winter plants.

How did your Planta Greenhouse improve your gardening experience?
I always knew I could plant and grow things but listening to my neighbors gasp when they see the plants is awesome. Having a greenhouse gives plants the protection and boost they need, if and when you transition them to the outdoors.

What was your experience like buying from Planta Greenhouses?
Extremely easy to buy with clear and precise communication. Our only concern was understanding exactly how big a vehicle we would need to transport it from the shipping depot, 90 miles away. We took a long bed pickup when it easily would have fit inside our Expedition. Knowing the sizes and number of packages would be useful.

What's your favourite thing about the Planta Greenhouse?
Warm, quiet, peaceful, and fragrant! It's a wonderful getaway right outside the back door. Even if I didn't grow plants it would be a marvelous place to put a patio rocker or a bistro table, sipping coffee, reading a book, listening to music, and watching the seasons change.

What would you say to a person considering purchasing a Planta Greenhouse?
Plot your ground first, research your plants, and buy one big enough then go for it, any questions, communicate with the experts at Planta.