My wife loves her greenhouse space!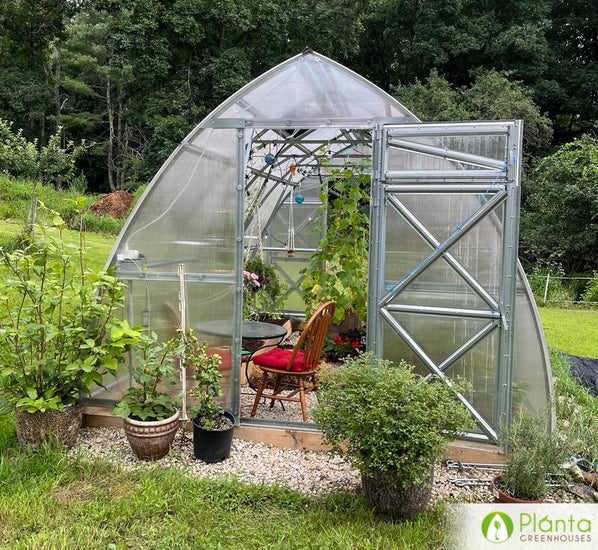 What made you get a Planta Greenhouse?
I searched many brands looking for the right greenhouse for my wife. What I loved about the Planta greenhouse was the shape and the snow load capacity. We occasionally get big snow storms and Nor'easters in New Hampshire. We needed something sturdy.
My wife loves her greenhouse space!

What competitors did you consider before purchasing from Planta Greenhouses?
Parlay and Riga were the other top contenders. There were others but most were too cheap, or weak.

Why did you choose to buy from Planta Greenhouses?
Loved the snow load capacity and the picture of your employees on top of one.

What do you grow inside your greenhouse?
A variety of veggies, cucumbers, tomatoes, kale. There are several herbs as well as house plants spending the summer out there.

How did your Planta Greenhouse improve your gardening experience?
It has greatly extended our growing season. My wife has been able to start seeds so much earlier than ever before. This year we'll try some cold crops well into the fall.

What was your experience like buying from Planta Greenhouses?
Buy our Planta greenhouse was simple and shipping was quick. I had a few questions and they were very helpful.

What's your favourite thing about the Planta Greenhouse?
I thought it was the right fit for us given our location. Now that it's built and my wife is using it, seeing her smile when she's out there is priceless.

What would you say to a person considering purchasing a Planta Greenhouse?
You absolutely should give the Planta greenhouse a try, it's great!

Anything else you'd like to add?
I may end up buying an extension kit.