Planta Farmer
50 psf (240 kg/m²)

Snow Load

Size: 25' × 98' × 12,5'

Regular price

$40,500 USD

Regular price

$44,500 USD

Save $4,000

Sale

Sale price

$40,500 USD

Unit price

per

Sold out

98 psf (480 kg/m²)

Snow Load

Size: 25' × 26' × 12,5'

Regular price

$21,000 USD

Regular price

$22,500 USD

Save $1,500

Sale

Sale price

$21,000 USD

Unit price

per

Sold out

98 psf (480 kg/m²)

Snow Load

Size: 25' × 48' × 12,5'

Regular price

$29,500 USD

Regular price

$32,500 USD

Save $3,000

Sale

Sale price

$29,500 USD

Unit price

per

Sold out

98 psf (480 kg/m²)

Snow Load

Size: 25' × 98' × 12,5'

Regular price

$50,500 USD

Regular price

$56,500 USD

Save $6,000

Sale

Sale price

$50,500 USD

Unit price

per

Sold out
Snow & Wind Resistant
Snow load up to 50 psf
Farmer Greenhouses hold snow loads of 50 psf (240 kg/m²) and are maintenance free in the winter!
Wind resistance up to 65 mph
Sturdy greenhouse construction that resists winds up to 65 mph (100 km/h)
Why Planta Greenhouses
Planta's Farmer Greenhouses bring practical solutions for growing in farms. Its outstanding design makes it the most durable and versatile greenhouse solution on the market.
Heavy Duty

We use heavy duty 6mm Polycarbonate Panels on all models

Galvanized Steel

Our heavy duty galvanized steel frames are durable as they are functional

Length Extension

Greenhouses can be extended up to 100 feet in length.

UV Protection

Planta Greenhouse Panels provide 100% protection against UV rays

Maintenance-free

Our heavy duty galvanized steel frames are durable and rust-resistant

Made in Europe

Planta Greenhouses are manufactured in Europe and exclusively imported
Enjoy Gardening With Planta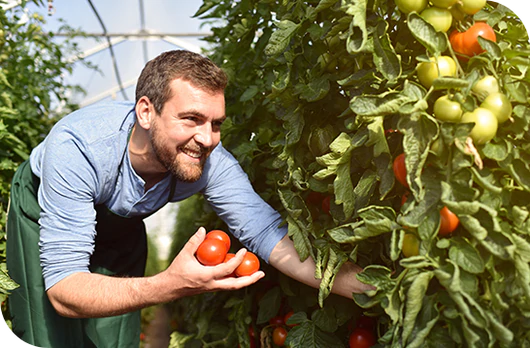 Planta Greenhouses are some of the most durable, versatile and affordable greenhouses currently available on the market.
Planta Farmer greenhouses were designed to maximize performance in commercial farming. The heavy duty, rust and snow resistant galvanized steel frame provides assurance that your crops will remain safe even during the most extreme winter conditions. 
Buy your Greenhouses today - Pick up in a nearby warehouse - or - have it shipped anywhere in Canada and United States. We deliver to all provinces. Our Greenhouses are used by farmers in Ontario, Quebec, New Brunswick, Nova Scotia, Manitoba, Saskatchewan, Alberta, British Columbia and beyond.