Gardening went from a chore to a really fun experience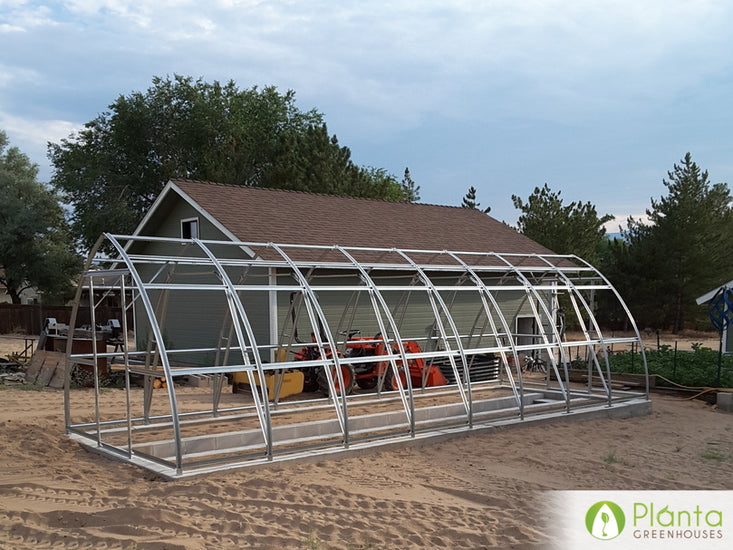 What made you get a Planta Greenhouse?
We wanted to become more self-sufficient as far as growing our own food. We live in northern Nevada and the weather can get extreme here. Growing foodstuffs in the winter is very important to us. A greenhouse seemed to be the solution.

What competitors did you consider before purchasing from Planta Greenhouses?
We looked at many on the internet but found the Planta 26 looked the right size for us and really liked the way it was constructed.

Why did you choose to buy from Planta Greenhouses?
Loved the design and support literature. The price was also in our range.

What do you grow inside your greenhouse?
Lettuce, spinach, beets, carrots, peppers, onions, broccoli, cauliflower, cabbage, tomatoes, watermelon, cantaloupe, and cucumbers so far. We are still learning what we can grow at what time of the year. It is a process and have had to abandon some things because they were cold weather crops and it got too hot in the greenhouse for them. Things grow so fast in there that it was not a big deal to switch. We have learned so very much in a relatively short time.

How did your Planta Greenhouse improve your gardening experience?
We spend a lot of time together in our gardens and greenhouse. Working in the greenhouse has changed from a chore to a really fun experience.

What was your experience like buying from Planta Greenhouses?
Ordering our greenhouse was fast and easy. The shipping schedule worked out great for us and when it arrived, we had the foundation completed and started erection almost immediately.

What's your favourite thing about the Planta Greenhouse?
The ease of construction. I am an iron worker by trade and am used to assembling structures. I leisurely assembled the entire greenhouse by myself in just a few days and I am 71 years old. There are many many holes that have to align perfectly in order to assemble properly. Not a single hole was off out of the many hundreds of them. I was amazed at the accuracy of all of the components.

Anything else you'd like to add?
We had a storm that left 3 feet of heavy Sierra cement (snow) and some 65 MPH winds and our greenhouse never knew the difference.
One of my pictures shows coils in the bottom of the grow boxes. These are for hot water to heat the soil in winter if I feel it necessary in the future.